Advising and Student Committee Work
Graduate:
Carter, Calvin. (In Progress.) Project. Social Engagement and Credibility. Committee Chair. 
DeMuro, Robert. (In Progress.) Thesis. Healthy Living Bloggers and the Nexus Between Journalism, Health Care and Ethics. Committee Chair.
Stafford, Tyler (In Progress.) Thesis. A Quantitative Study of Student Receptivity to Double-Effect Reasoning as an Ethical Framework for Journalism. Committee Member. 
Galasso, Aidan. (2014). Thesis. A Study of Episodic and Thematic Framing in Mock-News Programs. Committee Member. 
LeTard, Andrea. (2014.) Locals in the City: Creating a Business Plan through Customer Discovery for a Social Media Travel Website. Committee Member.
 Hengen, Charly. (2014). A Coast Guard Recruiting Office and Social Media: Facebook Content Analysis. Committee Chair.
Avery, Pam. (2013) Professional Project. The Community News Website: Will Hyperlocal Work in Harris County, Georgia? Committee Chair.
Tano, Janine. (2013). Is Publishing the Fifth "P" of Marketing? Why Marketers Need Journalistic Skills to be Successful. Committee Chair.
 Perry, Elle. (2013). Professional Project. Web Tools and Tactics: A Guide for Small Nonprofit Organizations. Committee Chair.
Block, Brittney. (2013). Thesis. Mobile Applications and Advertising:  Scan vs. Shazam. Committee Member.
Huchton, Hayley. (2013). Professional Project. 365 Days of Social Media: Analysis of the Social Media Strategies Used by Niche Print Magazines. Committee Member.
Perkins, Brian (2013). Thesis. Conflict of Interests: How Wikileaks Forces a Withdrawing of the Battle Lines Between the First Amendment and National Security. Committee Member.
Clark, Shakia (2012). Professional Project. Business Plan: Voice-Activated Children's Book Application. Committee Chair.
Sadler, Jennifer (2012). Professional Project. Social Recruitment: How to Use the Internet to Find to Great Employment. Committee Chair.
Towler, Chandra. (2012). Professional Project. Something Old, Something New: An Analysis of How to Use Social Media to Market a Business in the Wedding Industry. Committee Chair.
Cochran, Adam. (2011). Professional Project.  Using the Hyperlocal Project as a Teaching Tool. Committee Member.
Lynch, Lisa. (2011). Professional Project. Developing the Playhouse on the Square Audience: Addressing Barriers to Arts Events Attendance. Committee Member.
Brittany McManus (2011). Professional Project. Baptist Memorial Health Care Corporation: A Social Media Policy. Committee Member.
Gwynn Bradley (2011) Thesis. Topics of Interest: A Content Analysis of Local and National Editorial Cartoon Themes. Committee Member. 
Donna Sudderth (2011) Professional Project. Graduate Course in Social Media: Preparing University of Memphis Students for the Changing Landscape of Journalism and Public Relations. Committee Chair.  
Nilse Furtado (2011). Thesis. Comparing Social Media Effects in Brazil vs. the United States: The Shift of Interpersonal Relationships in the 21st Century. Committee Member. 
Shannon Little (2011). Professional Project. Redeveloping Overton Square: A Community Awareness Campaign for Memphis Heritage. Outside Committee Member (Communication Department).
Kathleen Fox (2011). Professional Project. A Content Analysis of The Commercial Appeal Sports Section. Committee Member.
Brittany Fitzpatrick. (2011). Professional project. New website for the 2011 Best in Black Awards.  Committee Member.
Guy Campbell (2010) Thesis. Corporate Branding as a Foundation for Successful Internal Communications: Applying Public Relations Theory to the Advancement of Internal Communications. Committee Chair. 
Sarah Bolton (2010) Professional Project. Sustainability and Social Media: A Natural Connection. Committee Chair.
Amy Dunbar (2010) Thesis. Direct Audience Segmentation for Energy Conservation Using Q- Method. Committee Chair.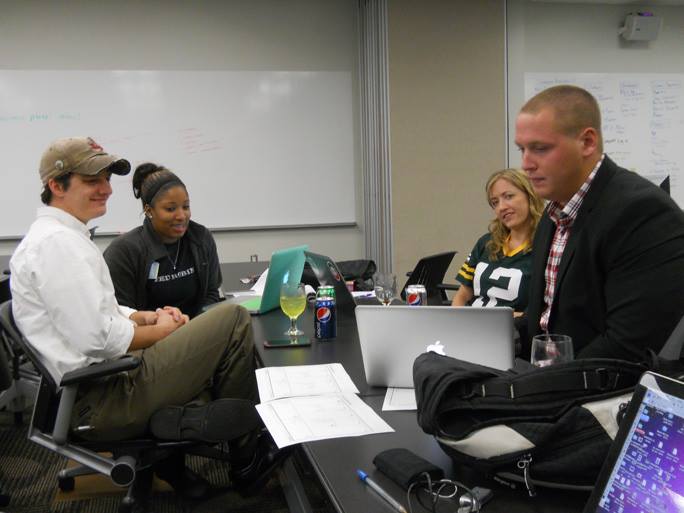 Beginning process Joelle Pittman (Committee Chair); Russell Luna (Committee Member); Rachel Wilhite (Committee Chair); John Stevenson (Committee Chair); Lauren Turner (Committee Chair), Zach Losher (Committee Chair) Erin Fergus (Committee Member).
Undergraduate advising:
Since 2009, I have met individually with a total of 58 undergraduate advisees at least twice annually to advise them on required courses and  professional and personal  development.
Faculty mentor/honor's thesis advisor, Taylor Smith. (2014)
Industry Service
Host, #wjchat, a weekly web journalism chat on Twitter for industry professionals. (May 2014).
Facilitator, Online News Association dCamp Mobile, University of North Carolina, Chapel Hill. Joined leaders from America's top news organizations, from CNN to the New York Times, in leading a design thinking workshop to develop new mobile news products. (February 2014).
Research Advisory Group, American Press Institute. Named one of a "select group of thought leaders" helping to "forge new partnerships and collaboration and to accelerate the level of knowledge and innovation in newsrooms and news companies, while at the same time raising the level of application of scholarly research."  (2013-present)
Social/digital media professional outreach. On a daily basis, this involves sharing results of research, updates on the current state and future of the news business, and resources for teaching on a blog, The Changing Newsroom, and a host of other social media sites, including Facebook, Twitter, Pinterest, Instagram, Flickr, Delicious, Google+, Foursquare, and more.  The audience for this effort includes more than 5400 Twitter followers, among them leading academic thinkers such as Jay Rosen from New York University and major media journalism practitioners like David Carr of the New York Times and Katie Couric, as well as journalism students and faculty from around the globe.  While this form of publication is not peer-reviewed, sharing research and ideas enhances the impact of academic work, and prompts discussion and the dissemination of knowledge. (2007-present).
Sample Changing Newsroom blog posts:
Monthly contributor, Carnival of Journalism. Each month, a broad range of scholars and journalism practitioners wrote essays in response to a question or prompt, led by David Cohn, then of Spot.Us, now of Circa. Each entry was summarized in a monthly round-up and widely shared, facilitating a broad exchange of ideas both within and outside the academic community (2011-present)
Judge, Central States Chapter of the Society of American Travel Writers contest sponsored by the Peabody Hotel, Memphis (2007).
Writing coach/instructor, Reynolds High School Journalism Institute  training program for high school journalism teachers, sponsored by American Society of News Editors and Reynolds Institute. (July 2007)
Internal University Service
Alumni Association Teaching Award Selection Committee (2013-2014).
Writing Instructor search committee (Spring 2014)
Entrepreneurial Journalism Certificate Director (2013-present). Developed and successfully proposed a new graduate certificate program in partnership with local accelerator Start.Co. Program was approved in April 2013 and launches fall 2013. Will manage all aspects of marketing and advising students through the program.
 Member, University of Memphis Entrepreneurship Exploratory Committee (2013-present). Provost is looking at ways to expand entrepreneurship across colleges and departments throughout the university, and this group will explore options to achieve that goal.
Faculty mentor, Resume Workshop Series (2013-2014). Working one-on-one with students to improve their job and internship application skills.
Faculty mentor, Ideas Weekend (2013). Worked with a team of journalism students at a 48-hour startup launch program hosted by our Crews Center for Entrepreneurship and the FedEx Institute for Technology.
Teen Appeal coordinator search committee (2013).
Social Media Club Adviser (2012-present).
Social media working group member (2012- present). A group formed to coordinate, discuss, and improve university-wide efforts to integrate social media into the curriculum.
Broadcast faculty search committee (2012).
Founding Executive Committee Member, SafeZone (2011-present). Working with network of faculty, students and staff across campus to establish volunteer network in support of campus LGBT community. The University of Memphis was the last of its 12 peer institutions to establish this program, which trains volunteers to help LGBT faculty, staff and students and refer them to relevant resources. I also serve as a volunteer and have received the training.
Professional Development Committee (2011-2012). We worked on developing new programs that encouraged students to participate in more opportunities for mentoring by the local professional community and other events on campus designed to broaden and improve their skills.
Website & Social Media Committee, University of Memphis (2010-present). I maintain the department's Facebook page and Twitter feed, posting about student and faculty accomplishments, job and internship opportunities, journalism-related campus events, and other news and resources for students. This requires a fairly significant investment of time and effort.
Qualitative Certificate Advisory Committee (2010-2013). Assisted faculty members in the Department of Counseling, Educational Psychology and Research in the development of a new university-wide program that will train students in ethnographic observation, interviewing, and a host of other advanced qualitative methodology techniques.
Faculty Input Committee, (2009-2010). This committee assists the faculty senate and the university in the assessment of faculty opinions and priorities through the creation and analysis of surveys.
Internship/Placement Committee, University of Memphis (2010-present). We work to help students find and prepare for jobs and internships by maintaining listings, offering resume and interview preparation, and more.
Hardin Chair Search Committee, University of Memphis (Spring 2010).
Curriculum Committee, (2009 – present).
News Curriculum Subcommittee Chair, University of Memphis (2009-2011). I led a complete overhaul of the department's news curriculum that went into effect in fall of 2011. The new curriculum emphasizes a variety of new multimedia skills students now require while maintaining a strong emphasis on core writing and reporting skills. This overhaul required considerable background research, brainstorming, preparation of written materials, and numerous meetings.
Recruitment Committee, (Chair: 2008 – 2009; Member: 2009-2010). Organized and attended a variety of events to recruit new students and promote the department.
External University Service
Judge, American Journalism Historians Association book award. (2014)
Paper reviewer, Association for Education in Journalism and Mass Communication Southeast Conference, (2014)
Paper reviewer, Digital Journalism (2013)
Paper reviewer, Communication & Society journal (2012-present).
Book reviewer, Oxford University Press (2012).
Editorial board member and paper reviewer, Community Journalism journal (2011-present)
Paper reviewer, New Media & Society journal (2011).
Judge, Best of Web 2010 Awards, Association for Education in Journalism and Mass Communication (Spring 2010)
Paper Reviewer, Journal of Magazine & New Media Research (2009-present)
Paper Reviewer, Newspaper Division, Association for Education in Journalism and Mass Communication (Spring 2009)
Community Engagement and Outreach
Advisor, Teen Appeal, city-wide high school newspaper program (2012-present). Mentor program coordinator and staff members.
Director, Teen Appeal. (2008-2012)  City-wide high school newspaper funded by the Scripps Howard Foundation and produced in partnership with the University of Memphis, Memphis City Schools and The Commercial Appeal. This successful program teaches students the basics of journalism , and many of our alums have gone on to careers in the news industry, helping to increase diversity in newsrooms nationwide. As the head of this program, I managed all relations with the Scripps Howard Foundation, writing detailed reports twice annually, tracking all of our alumni, and handling paperwork through the university grants accounting office. I also managed the program's coordinator and assistant coordinator, line edited the paper each month, assisted in the mentoring and worked on the development of a new website. Under my leadership the program joined the Interscholastic Online News Network and participated in the Reynolds High School Journalism program.  I also help organize, attend, present material at, and serve as a writing coach for our weeklong journalism camp for Teen Appeal staff each summer. I stepped down in 2012 in order to develop the new entrepreneurial journalism program, but I am still involved on a weekly basis with the program.
Scripps Internship Placement Coordinator, University of Memphis (Spring 2009-present). Each year I handle considerable paperwork involved in helping our students secure internships with The Commercial Appeal. I also edit the students' resumes and cover letters and assist them in preparing for interviews.
Professional Memberships
Investigative Reporters and Editors (2013-present)
International Communication Association (2013-present)
Association for Education in Journalism and Mass Communication (2006 – present)
Newspaper and Online News Division (2006-present)
Committee of Concerned Journalists, (2003-present)